The staff from the Mother-Child Center and the Save the Mother-Child Center coordination committee in Valleyfield are asking the government to put the Integrated Health and Social Services Center of Montérégie Ouest (CISSSMO) under supervision.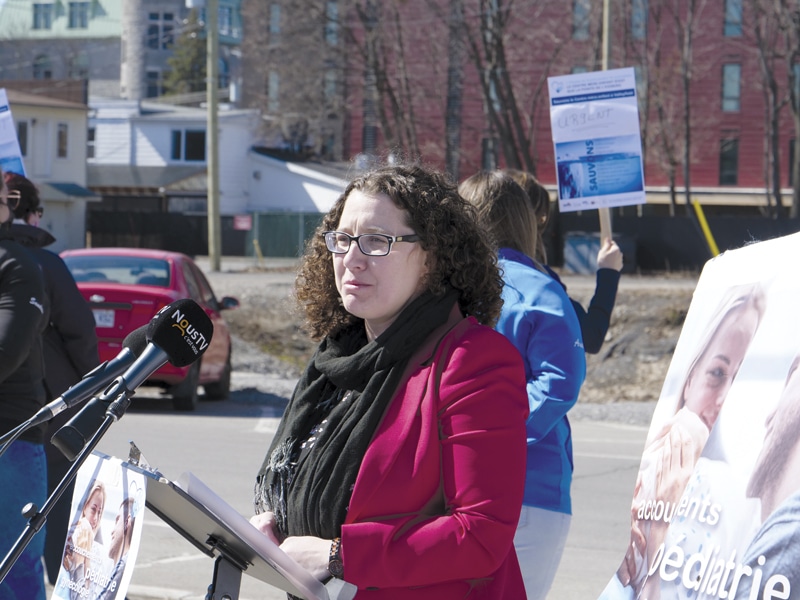 There is no longer any doubt that the days of the Mother-Child Center at the Suroît Hospital seem numbered. The closure of the floor devoted to births could occur in the coming days. For some time now, the CISSSMO has diverted deliveries to other hospitals, including the Lakeshore Hospital in Pointe-Claire.
To justify the decision to transfer the deliveries, the management of the CISSSMO speaks of a labor shortage. But, employees met for a press briefing on Tuesday, April 6th , reject this theory. Several nurses applied for vacant delivery room positions and the CISSSMO refused to fill the positions.
"The nurses' union indicates that the staff is so exhausted that every day, people resign, says Edith Gariepy, spokesperson for the group Save the Mother-Child Center in Valleyfield. The staff shortage is therefore the result of inadequate management of the CISSSMO which refuses to fill the necessary positions and pushes its overloaded staff to resign."
Mrs. Gariépy admitted that if the birthing unit closure is confirmed, it could be the first in a series of closings. "For years, the CISSSMO has sold us that the new Vaudreuil hospital will be the miracle solution to the labor shortage that is overwhelming it. Concrete and new technologies will attract new employees, but will the management of human resources be changed by then so that these new employees remain in place, and this, throughout the CISSSMO and not only at the new miraculous hospital?"
The committee admits that the situation is alarming. This is why requests have been sent to the government so that the Minister of Health intervenes quickly in order to take the necessary measures to prevent the foreseeable closure of childbirth in Salaberry-de-Valleyfield, to protect nurses and other employees who dare to ask for improvements and to keep in operation the 10 services, including the Mother-Child Center of the Hôpital Suroît, which the CISSSMO intends to close definitively in 2026.