The highly skilled artist Bernard Séguin Poirier is unequivocal: art is an essential service. It allows us to claim our colors, it leaves a permanent mark of our history, of who we are individually and collectively. Art also allows for the healing of the soul, to reconnect with the essential.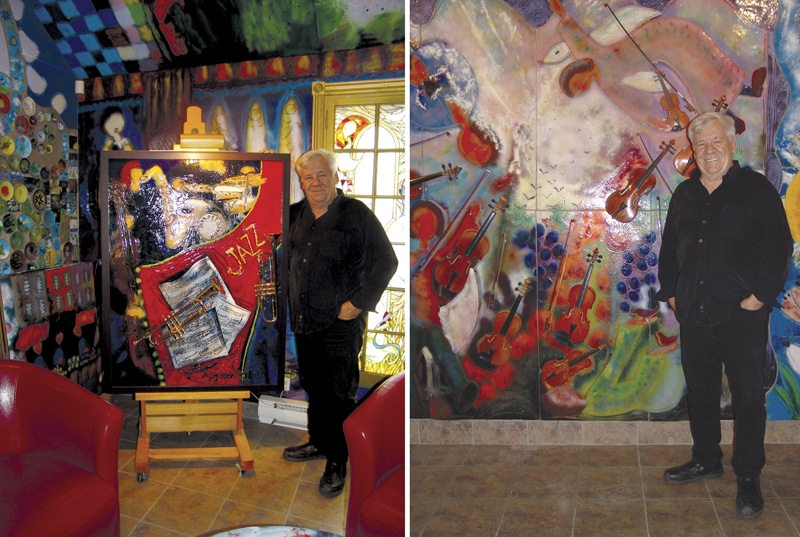 The painter, whose talent is recognized internationally, has taken advantage of the last few months to create colorful and sunny artworks. During this period of collective isolation, the artist enamelling on copper let his creativity monopolize every sphere of his mind. He has created works, the energy of which emanates from them, envelops and comforts those who contemplate them. The one, whose passion inspires all those he meets, specifies that creativity stimulates the brain, allowing people to surpass themselves by finding solutions they would never have thought of, to find a balance and therefore to improve their lives.
For him, creativity is accessible to everyone since it goes through art, but also through the way we do things, by the way we look at what surrounds us. It lies in our ability to enjoy nature, not only by gazing at it furtively, but by getting our hands dirty, by creating floral arrangements, by collecting materials, by recreating our living space. For the artist, this obligatory downtime is the perfect opportunity to create, to organize a new life, to take the time to look with the eyes of the heart at the awakening of nature and all the riches that emerges from it.
Although he is naturally optimistic, Bernard Séguin Poirier is worried about the repercussions the pandemic will have on art in Quebec. According to him, it will take years to collectively recover from this difficult period. He fears that several artists will not be able to get through it, that the visual arts are struggling to recover from this health crisis. The same is true of the entire arts sector, which has been forced to temporarily cease all activities. "It is very important in this difficult time to support all artists in Quebec. Festivals, exhibitions, all the opportunities available to them to showcase their art have been cancelled, I'm worried. Art is what sets us apart from others, it's our identity as a community, it's a mark we leave on how we see and experience things", said the passionate artist.
The annual exhibition
Considering that art is an essential service, both for artists and for those who benefit from it, Bernard Séguin Poirier wishes to pursue his mission, which is to share his passion with the public. He emphasizes that enriching encounters occur when he opens the doors of his gallery to art lovers and to those who feel the need to enter to escape during their visit. Deep discussions and confidences are born in this place where each area is filled with stories, light and colors. Moreover, given the considerable number of cultural events that have been cancelled, the artist has decided to hold his annual Open House Créations Séguin Poirier exhibition. In fact, until December 31st, the doors of the Gallery remain open to the public while making sure to respect the guidelines issued by Public Health. Visitors are therefore invited to come to 1037, chemin du Fleuve in Les Cèdres, from Tuesday to Saturday from 10 a.m. to 5 p.m. and from Saturday and Sunday from 10 a.m. to 5 p.m., thus enjoying a colorful cultural experience.
Bernard Séguin Poirier told the newspaper's team that he was currently working on an ambitious project, in collaboration with a distinguished artist in his field. He emphasizes being thrilled by this association which will bring forth surprising creations.