It is no secret that there are many activities in Vaudreuil-Soulanges in the summer. However, we must not believe that winter is synonymous to a sedentary lifestyle. It's actually the opposite.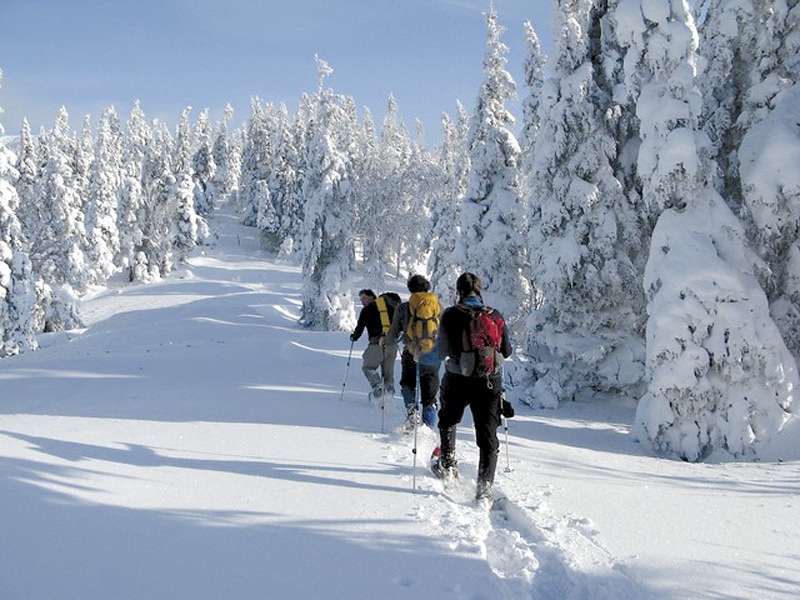 Obviously, it is impossible to ignore Mont Rigaud. The place is a flagship of the regional tourism industry. The resort includes a ski area of more than 188 slopes, a highly recognized ski school in the area, a network of more than 15 kilometers of mountain bike trails as well as a summer day camp.
When it comes to the Sentiers de L'escapade, thrill seekers can take advantage of the place to practice Fatbike.
Parc nature les Forestiers-de-Saint-Lazare
A busy day is the very definition of a visit to Parc nature les Forestiers-de-Saint-Lazare. With its huge ring shape ice rink along with skiing, tubing, a hebertism trail and snowshoeing, the place quickly becomes a favorite spot when it comes to battling the winter gloom.
Lots of skating in Vaudreuil-Dorion
Do you have skates? Starting at Parc de la Maison Valois, the city of Vaudreuil-Dorion plows the access to the lake when it is frozen. You prefer dry land, no problem. In Vaudreuil-Dorion, there are 9 rinks with boards for playing hockey as well as 9 ring shape ice rinks. It is impossible to ignore the fact that Parc de la Maison Valois is one of the favorite places for snowshoeing.
Saint-Zotique beach
Indeed, who says beach usually means swimming. But, Saint-Zotique beach is also a place to enjoy the winter. On the menu is walking, snowshoeing, cross-country skiing and fat biking. It is important to mention that pets are allowed.
Refrigerated ice rink in Saint-Zotique
The skating rink is located at Parc Quatre-Saisons, 461, 26e Avenue in Saint-Zotique. Due to the pandemic, the rink is reserved for residents of Saint-Zotique only (citizen card or proof of residence with photo required) and only one-way free skating is authorized. The trailer is not accessible. Benches and tables are available to skaters. The maximum capacity has been set to 100 skaters.
Snowmobile
There are hours of outing for snowmobilers in Vaudreuil-Soulanges. The number of kilometers of trails is impressive. There are more than 250 kilometers. To demonstrate the importance of snowmobiling in Vaudreuil-Soulanges, three snowmobile clubs have been identified.
Pointe-des-Cascades Nature Park
At the eastern end of Pointe-des-Cascades, the Pointe-des-Cascades Nature Park is the ideal place to observe nature. It is a prime location for walkers. They are invited to walk to the end of the pier and to discover the lighthouse which indicates the entrance to the Soulanges canal. From the gazebo, you can admire the point and where the Ottawa River and the St. Lawrence River meet, a superb point of view.
Walking in Rivière-Beaudette
A walk in nature which offers a loop of 7 kilometers on flat ground. This is what awaits walkers who want to relax their legs in Rivière-Beaudette. The departure is at the Centre des loisirs de Rivière-Beaudette. It will be possible for users to observe several species of birds, including birds of prey.
Tubing in Pincourt
During the winter season, the City of Pincourt builds and maintains two slopes for sliding with a sled, a tube or a crazy carpet. The respective locations are at Parc Olympique (375, boul. Cardinal-Léger) and at Parc Taillon (1180, chemin Duhamel). The trails that seem to appeal to everyone are lit Monday through Sunday from 4 p.m. to 9:30 p.m.