Who said you have to stay indoors in the wintertime? Many winter activities are offered in the region.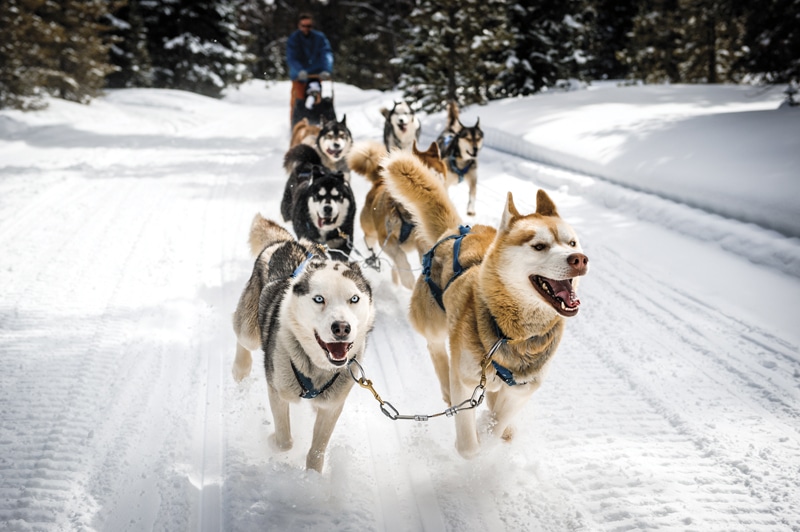 Le Bois Robert, in Beauharnois, is a favourite spot for snowshoeing and cross-country skiing enthusiasts. More than 10 km of trails are available for a variety of activities. Inside the green space, it is also possible to admire more than 27 species of trees and shrubs such as maple, oak, beech and the shagbark hickory (rare).
Fernand-Seguin Ecological Center
The Fernand-Seguin Ecological Center in Châteauguay is positioned as a high-quality outdoor destination. The noble and distinctive tree species that make up this 65-hectare forest make it a site of great ecological value. The ecological center is one of the most visited parks in the region. Access is free at all times and some of the activities offered are as well. Héritage Saint-Bernard is responsible for the management and conservation of the ecological center.
Although five kilometers of hiking trails are accessible free of charge at all times, the ecological center is especially popular during the winter period, as fifteen kilometers of cross-country ski trails, four kilometers of snowshoeing and two kilometers of walking are offered, in addition to a mound to slide.
The ecological center is accessible by rue Fernand-Seguin in Châteauguay, at the corner of boulevard Brisebois. Dogs and other pets are prohibited, as are bicycles.
Quad and snowmobile
Nearly 200 km of trails are accessible by quad and snowmobile in the Beauharnois-Salaberry RCM. In fact, it is also possible to consult the interactive trail map of the Fédération des clubs de motoneigistes du Québec to plan your trip.
Do not forget that to use an approved trail, you must have paid the recommended access fees. For quad enthusiasts, there is the Les Débrouillards du Suroît club. You can follow the organization on Facebook to stay up to date with trail conditions and organized activities.
Univers du chien de traîneau
Located just 40 minutes from Montreal and 10 minutes from Highway 30, in Saint-Stanislas-de-Kostka, the Univers du chien de traîneau offers an unforgettable outdoor experience related to dog sledding, the discovery of the way of life of the northern peoples as well as the peculiarities of a pack of Husky dogs. Whether with family, a group of friends or alone, take advantage of the half-day packages that are available to you.
Sliding hills at Delpha-Sauvé Park
The sliding area at Delpha-Sauvé Park is now open. The corridors are reserved exclusively for sliding (snowboards and snow scooters prohibited) and it is advisable to go up the slope by the stairs. Children 14 and under must be accompanied by an adult. The schedule is Monday to Friday from 3 p.m. to 8 p.m. and Saturday, Sunday, school vacations and holidays from 10 a.m. to 8 p.m.
Skating, snowshoeing, hiking and thematic events; there are many winter pleasures in the Haut-Saint-Laurent. The municipal parks and public skating rinks are at your disposal to enjoy this beautiful season with your family.