Alexandra Ordolis may have come a long way since her days in the Theatre Workshop program at John Abbott College, but the television actress still has fond memories of her time in Ste. Anne-de-Bellevue.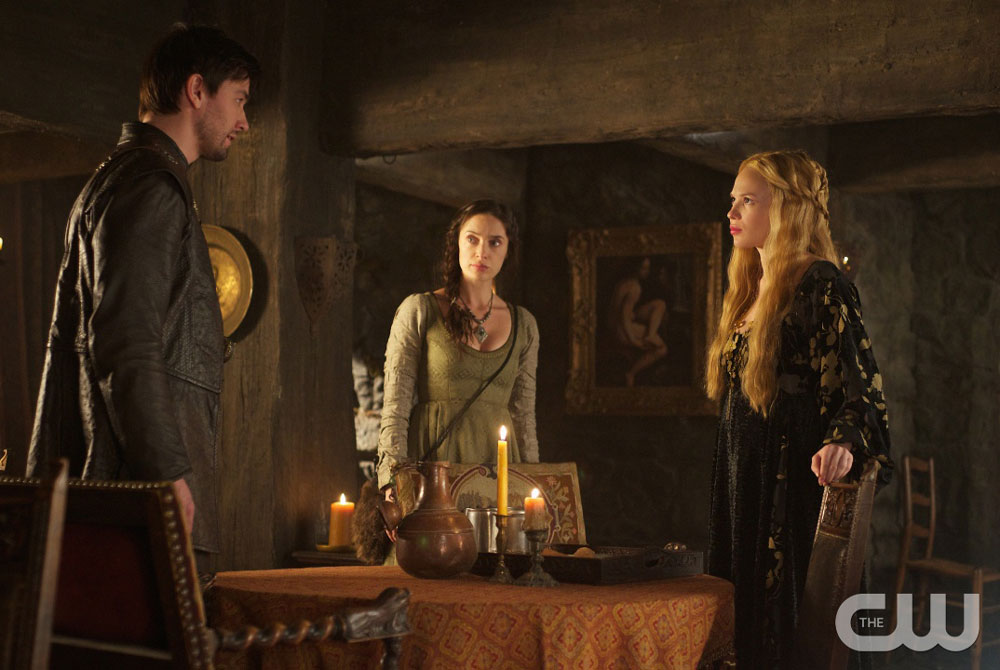 Alexandra Ordolis (Delphine) Torrance Coombs (Bash) and Celina Sinden (Greer) on the CW's Reign (The Hound and the Hare episode). (Photo: Sven Frenzel, courtesy of the CW Network)
Alexandra Ordolis aiming for U.S. market
Ordolis, 30, who was born in Montreal and spent her teen years in the West Island, is busy with not one but two recurring television series roles in addition to many other acting jobs. She plays Delphine on the CW network show "Reign", while also starring as Justine in the Bravo Canadian series,"19-2". Other TV credits include the recurring role of Blake, a cutthroat assassin on the popular SyFy series "Helix", and the guest star role of Jen Luck, a sarcastic cop on "Rookie Blue". Ordolis says while she fell in love with acting as a young child the free reign she was given to discover more during her years at John Abbott, where she studied under then theatre-department head Murray Napier, also had an impact. "Murray believes in theatre of the imagination," she said, adding, "that inspired us to let ourselves go in all directions and to find our characters and bring out the story were were trying to tell." And while she admitted that the Theatre Workshop courses were "pretty rigorous" she said she learned a lot of the self-discipline required in the field during her time at the waterfront CEGEP. From there Ordolis went to McGill where she earned a bachelors in English Literature. She also trained at the National Theatre School of Canada and the Canadian Film Centre.
Busy schedule
Life is anything but tranquil for Ordolis, who married her boyfriend, Tom Mullins in August. The couple met when she went to a Montreal sound studio to make a voice demo. Mullins worked at the studio as a sound engineer. Now living in Toronto, Ordolis divides her time between that city, where "Reign" films, and Montreal, where "19-2" shoots. "Delphine (Reign) is a recurring character so I'm not in every episode but am usually on set three days out of five," Ordolis explained. She jokes that she knows the drive between Toronto and Montreal like the back of her hand as she regularly makes the commute for her set days on "19-2", an English version of a popular French drama. In "Reign", a 16th century drama based on Mary, Queen of Scots, and the treacherous world of the French court, Ordolis plays Delphine, a powerful healer whose gifts gets noticed by the king's half-brother. She says the role allows her to to stretch herself artistically. "The king's deputy discovers Delphine at the convent where she's hiding out because she has lot of knowledge and power and she knows what can happen to a woman like her," Ordolis said. The third season, which will wrap next week, has Delphine using her visions to help track down a killer lurking in the court. "She can feel what the killer is going to do… it's a little creepy," she said with a laugh. In "19-2" Ordolis plays Justine, a wife being physically abused by her husband, a Montreal police officer. Her character is caught between protecting herself or her husband, who would lose his job if his secret was revealed. "It's quite a dark show. We see (Justine) struggle with his abuse and what she does with it," Ordolis explained of the "challenging role" for which did a lot of research on domestic violence. "I had to find my way into what she was going through… in the first season we see the most violence on screen. It was tough to shoot but we have a wonderful team, everyone is so focused," she said.
Career
Ordolis got her start on stage working with internationally acclaimed director Yael Farber and playing Juliet in "Romeo And Juliet" at the National Arts Centre. She also appeared in "Dark Matter", "Being Human", "Stay With Me", "Blue Mountain State", "The Will: Family Secrets Revealed", "Recon 2023: The Gauda Prime Conspiracy" as well as the documentary "Flight of the Butterflies." Her advice to would-be actors is to "just go for it. If its really what you want to do you'll find a way to make it work." And as she focuses on a rising career in Canada and on trying to break into the U.S. market – she now has agents in Montreal, Toronto and the U.S. – she says she'll never lose sight of her roots or love of the craft of acting. "It always comes back to the work I'm doing. As long as I'm figuring out and finding my way into a character and having fun, anything else that comes along will be less important."