The 29th edition of the Seigneuriales de Vaudreuil-Dorion, which was held from August 6th to 8th , was crowned with success. This great historical celebration has once again transported Old Vaudreuil to the era of New France.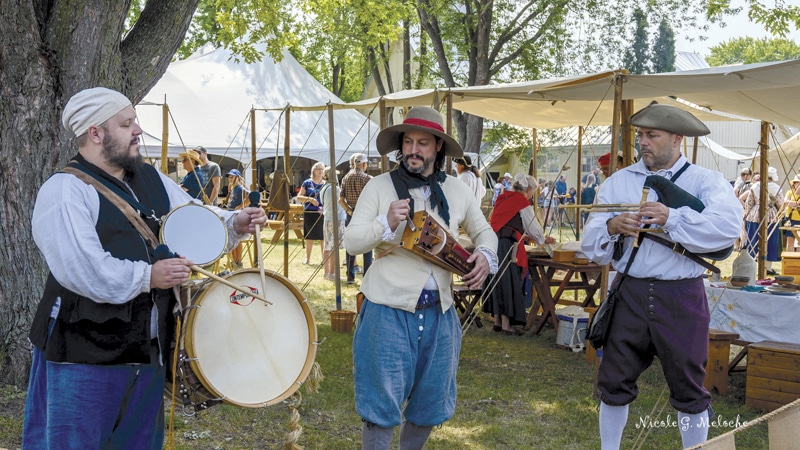 There was plenty of excitement during the 29th edition of the Seigneuriales. (Photo Nicole G Meloche)
Despite the constraints related to health measures, festival-goers responded in large numbers. In fact, the organizing committee would like to thank the people for their presence. "It was a beautiful big festival where it was good to see you in the flesh and to be able to feast with you", announces the town crier.
For the occasion, it was no less than 5,000 visitors who answered the call, during the three days of festivities, while Mother Nature was cooperative with some wonderful days. According to the organizing committee, the phrase that came up often as much from festival-goers as from the team is: "How good it feels to finally get together and experience such an event."
Christiane Lévesque, coordinator of the event, believes that the event was lucky to have been able to welcome all these beautiful people and bring them happiness and smiles. "We have experienced several challenges, but we have been able to overcome them to focus on welcoming people with the objective of maintaining the human warmth that we always find at the Seigneuriales", says Mrs. Lévesque before adding that this great success would not have been possible without the many volunteers that she would also like to thank and the precious collaborators without whom the presentation of an event of such magnitude would not be possible.
The large tent was packed for the much appreciated Vent du Nord show, hosted by Eric Michaud, spokesperson for the Seigneuriales de Vaudreuil-Dorion and Roy des menteurs.
Established several years ago, Place des Premières Nations, located in Parc Esther-Blondin on the waterfront, has been a favorite for many. This is in part thanks to the strong presence of Archie and Pierrette Martin, of Mi'kmaq origin and members of the organizing committee.
The audience was also impressed by enriching encounters and memorable exchanges with the many reenactors of the life of the era, such as the inhabitants of the fort, the soldiers of the various regiments and the presenters of ancient trades.
Some highlighted the presence of the large event on social media. This will continue throughout the year where drawings and photographs featuring the 2021 edition will be presented. To make sure you do not miss anything, the general public is invited to subscribe to the Facebook page at www.facebook.com/lesseigneuriales.
It is already known that the 2022 edition will take place from June 9 to 12, 2022. The event will be special since it will be about the 30th edition.