There are some die-hards who are determined to pursue their profession, even if they begin to see a grim reality. Their work, though considered essential at one time, is losing more and more popularity.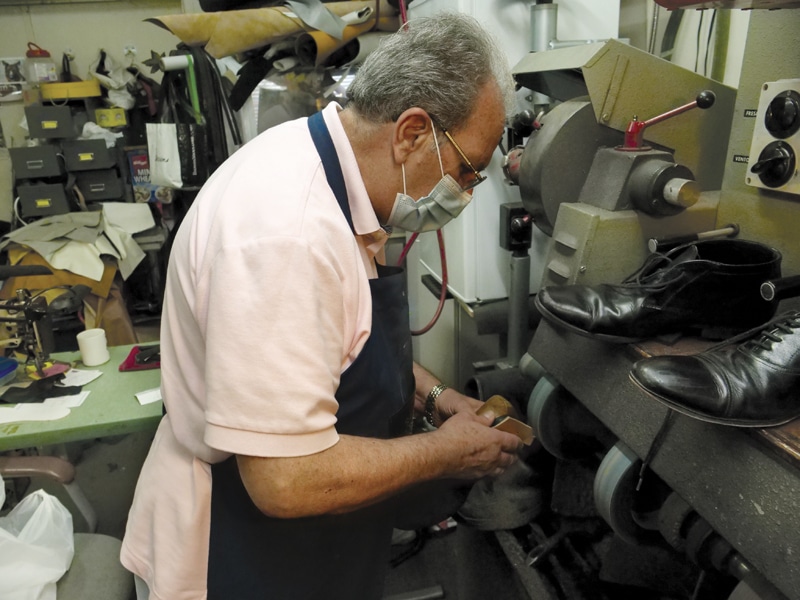 It is at his workplace, located at 1051 avenue Saint-Charles suite 103 in Vaudreuil-Dorion, that Stephan Vassilian practices his trade as a shoemaker. For the 70-year-old, there is nothing more satisfying than giving new life to the items he fixes. Whether it is the repair of a stiletto heel, the change of a sole or even giving a second wind to a handbag, it is with a smile and a good mood, that the one who is one of the last of the Mohicans, performs the required task.
Learning to open a business
Mr. Vassilian has been practicing his profession for 36 years. He took his first steps after working for a few years in the graphic design field when he arrived in Canada in 1976. Thus, he saw a transition take place. Before the work of a shoemaker was essential and regarded by the population, now some will never pass through the doors of such a business. "It's been 5 years since I entrusted the sale of my business to two agents and I haven't even had a visit, says Stephan Vassilian. There is not really a succession for the shoemaker's trade. Yet it is a beautiful job. Over time, my friend showed me the job under a promise to open my shoe repair shop. At one time, people flocked to the shoemakers."
Share your knowledge
Succession is the key to continuing the profession. However, it is almost non-existent. To prove his point, Stephan Vassilian says he has already contacted an agent from a local employment center in Quebec. He then wanted the agent to send two welfare recipients to teach them the trade for free. For him, it was a way of helping two people get back to work. However, no one came to his business.
"There was no one, he said. Yet, it's a really great job, but you have to devote several hours to it. Young people don't necessarily want to work hard for what the profession earns."
Cash and pay in advance
Entrance to Cordonnerie Jean-Pierre is unique. Several already repaired items cover the floor. The reason is more than peculiar. Customers do not necessarily return to pick up the items that were brought. Still, Mr. Vassilian spent several hours fixing them. If this was just one case, the shoemaker wouldn't even talk about it. However, this has happened many times.
"Now I ask clients to pay up front so I don't have to work for nothing. I have had a pair of boots here for 4 years. They are worth $ 700. The repair was less than $ 40 and the lady never returned. In order to avoid significant costs, I do not accept payment by card. In my business, cash is the way to go. I don't want to have to absorb the fees that are connected to the debit/credit card machine."
In the old days, people had their things fixed. Mr. Vasillian speaks of a world in which consumerism is important. "People prefer to buy a lower quality product for less and when it is broken it goes into the trash. They will not have the comfort, but they accept it."
Academic training
Not everyone wants to attend school for several years. Some might be inclined to do shoe repair training. But, there is none. The 70-year-old is currently considering contacting the Ministry of Education to offer training. "There will always be a need for a shoemaker, but if no one learns the trade, it will be difficult. In my case, if I don't sell my business, I plan to continue for 10 years. By then, I will be 80 years old. The time for retirement will then have come."