Tennis fans in the area will soon have a new name to add to their list of new hope. Maya, 10 years old, provincial champion in the 10 and under category and her coach Étienne Bergeron are determined and aiming high for the next few years.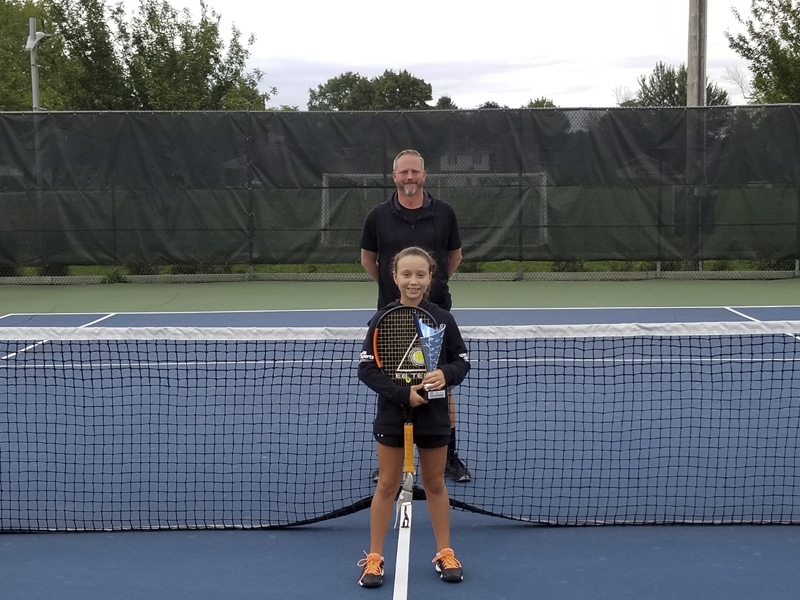 It was a sunny late afternoon when VIVA MÉDIA met the young tennis player and her coach at Parc Bellevue in Pincourt. They couldn't wait to tell us about their respective backgrounds and the chemistry between the two.
Mr. Bergeron is not in his first year of teaching tennis. He works in this profession full time, but he started it all at the age of 15 in 1985. According to him, it is really with the arrival of the Centre Multisports in Vaudreuil-Dorion that tennis in the region has been able to grow and provide a rising success like Maya. The fact that athletes can train close to home all year round allows them to grow better and we can see the results.
For her part, Maya is a young 10 year old girl who is a little shy at first glance, but when we talk to her about tennis, her eyes light up and tell us with great humility about her favorite sport. She met her trainer 5 years ago at the Centre Multisports and quickly began to prove herself. Going from simple individual training to group training and then to competitions all over the greater Montreal area. After a few years, she joined both the provincial tennis circuit and the Quebec national team for the 10 and under category. According to her coach, she is the first kid from the region to make the Quebec team in the 10 and under category. Maya loves tennis, her idol is tennis player Bianca Andreescu who is a source of inspiration and pride for her as both are of Romanian origin.
If we come back to Maya's great victory, she participated in the provincial tennis tournament for 10 and under and everything came together on August 13th last day of the final. The young player was feeling good before her last duel of the tournament. She led the scoring in the first set with a score of 6-1. Subsequently, wanting to do too much and finish as quickly as possible, she lost the second set 6-1. However, she recovered in the third, as she overwhelmed her opponent with a score of 6-1. With a game plan almost without missteps, she won the competition hands down and proudly presented her well-deserved trophy to us.
As for the future, both are aiming high without putting too much pressure on each other. "At that age, athletes should have fun and love sport before talking about performance", retorts Mr. Bergeron. With this in mind, Maya is now training with people in her new 10-12 age category and is already showing good skills. The next goals are to carve out a place on the Quebec team in its new category and aspires to make Team Canada. We wish Maya the best of luck for the next few years and look forward to hearing from her again.