The City of Vaudreuil-Dorion and Exo recently announced the opening of a new pedestrian and cycling tunnel under the railway right-of-way belonging to Exo at rue des Asters and rue des Muguets.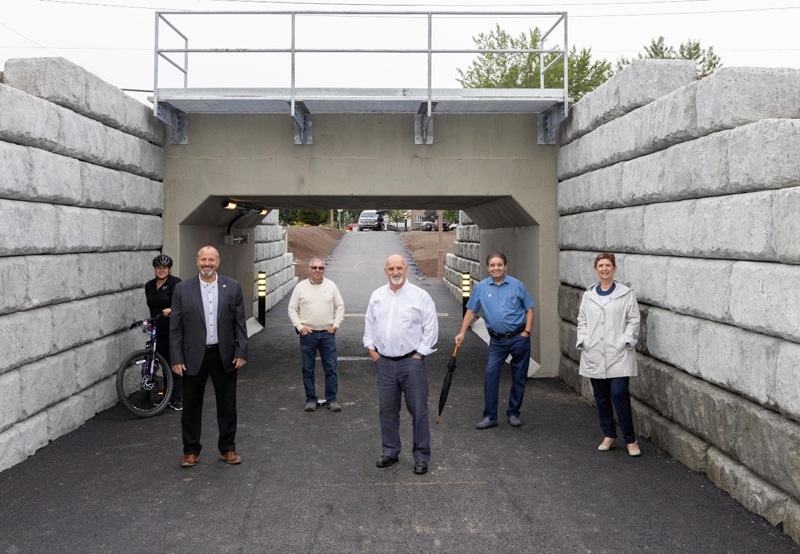 In the photo (from left to right), some members of the municipal council: Jasmine Sharma, François Séguin, Paul Dumoulin, mayor Guy Pilon, Paul M. Normand and Diane Morin). (photo Christian Gonzalez)
This tunnel will open up a rapidly developing sector while promoting active travels, particularly those of some 250 students who will now be able to walk or use their bikes to get to school.
The tunnel lighting is adapted to help people with visual impairments. In addition, the access ramp is gentle to accommodate people with reduced mobility, including those who use wheelchairs, and families with strollers. Also, a continuous handrail will be installed in early September on each side of the tunnel for people who need additional support. It will be double height and yellow in color, therefore accessible to all users, regardless of their size, and of optimal visibility.
The new pedestrian and cycling tunnel will increase the safety of the railway right-of-way at this location. The citizens of the City of Vaudreuil-Dorion will be able to cross the railway line in a completely safe manner, which will greatly reduce the risk of accidents. As a result, the punctuality and reliability of the Exo service on the Exo1 Vaudreuil-Hudson line will be improved.
This new tunnel was prefabricated in the factory to guarantee the quality of the structure. Its useful life is estimated at 75 years. Its construction and maintenance are fully funded by the City of Vaudreuil-Dorion, and the work was carried out by Exo.
To carry out this project, estimated at $ 2.99 million, the City of Vaudreuil-Dorion was able to benefit from a grant of $ 1.744 million from the Ministère des Transports and from the Financial Assistance Program to Develop Active Transportation within Urban Perimeters (TAPU). According to Exo's forecasts, the cost of the work should be set at $ 2.8 million, below forecasts.
For Guy Pilon, Mayor of Vaudreuil-Dorion: "This tunnel, created by Exo on behalf of the City of Vaudreuil-Dorion, meets one of the needs expressed by our citizens in the concerned sectors, who will no longer have to make a detour to move between their home and school, sports or leisure facilities."
"Exo used its expertise in terms of intervention in the railway environment to allow the City of Vaudreuil-Dorion to carry out an important project to improve the quality of life of its citizens and the safety around our right-of-way," added Sylvain Yelle, CEO of Exo.