For several months now, many Quebecers have been consulting a doctor virtually. This approach seems to appeal to several health professionals. According to a survey conducted by Canada Health Infoway and the Canadian Medical Association (CMA), the majority of them, getting a taste of virtual care, intend to maintain online consultations after the pandemic.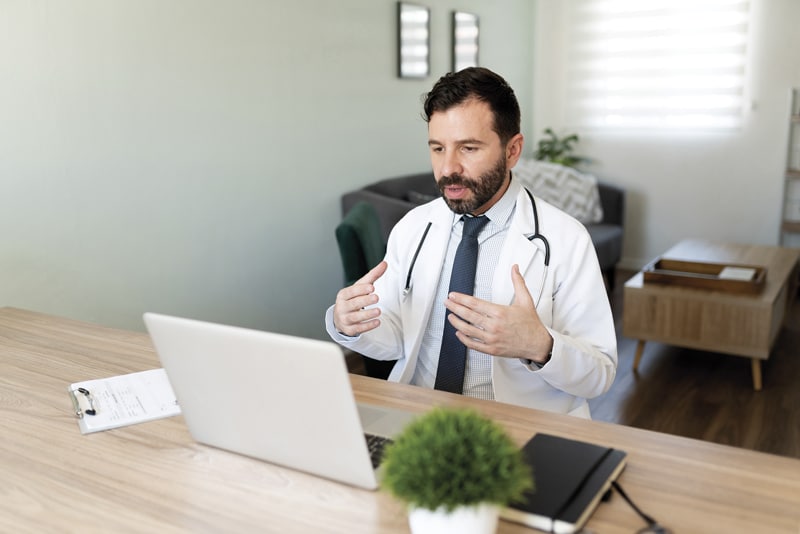 More than 2,000 doctors participated in the survey. 94% of them say they currently provide virtual care, 93% offer telephone consultations, 51% offer video consultations, 36% communicate with their patients via secure messaging or email, and 5% provide remote and home health monitoring services.
"The use of virtual care has increased dramatically since the beginning of the pandemic, but there is still work to be done to ensure equitable access to quality care", said Dr. Ann Collins, CMA President.
Limitations of the technology
Despite this transition, many obstacles remain. Notably, 80% of physicians surveyed say their greatest difficulty is examining patients in virtual mode. As other challenges, they mention the balance to be maintained between in-person and virtual appointments, the limitations of technology, and some patients' preference for in-person visits.
"We still have work to do, such as establishing a national license to practice, developing quality standards, addressing interoperability issues in addition to offering digital health literacy, information and training programs, says Dr. Collins. These are essential conditions for integrating virtual care into our health care system, to be included in our post-pandemic plan."
Doctors want more video consultations
Doctors are generally satisfied with virtual solutions, particularly telephone and video consultations. Family physicians do more consultations over the phone than specialists, who do more in-person and video consultations. Two-thirds of physicians who see patients on video say they would like to choose this mode of care more often.
Overall, physicians believe virtual care makes it easier for patients to have access and delivers quality and efficient care, and report success in integrating virtual services into their schedules.
The survey, which also looked at electronic medical records (EMRs), found that the tool was growing in popularity with physicians.
"These results clearly show that virtual care is here for good, said Michael Green, President and CEO of Infoway. Doctors appreciate it and recognize the benefits it has for their patients and for themselves. What's more, almost all general practitioners use EMRs, which will make the adoption of virtual care much easier."