MWCN benefits from the help of many volunteers aged 11- 90! Even during the pandemic, we have had 30-60 active volunteers each month. Since April is volunteer month, we salute all volunteers both young and young at heart, and we offer you a glimpse of what motivates some of the beautiful souls we have had the pleasure of working with this year.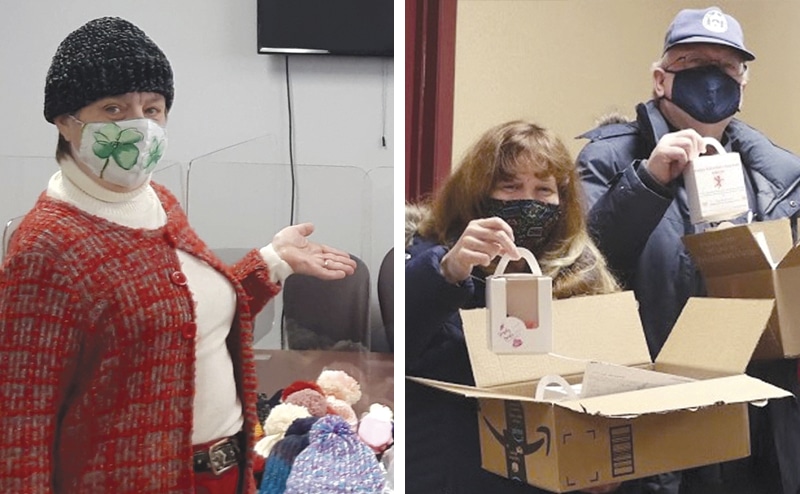 Summer Bay Rose Wyeth, an ambitious 11-year-old, raises money to buy Christmas toys for kids in need. Throughout the year, she collects used books and then sells them for $1. She encourages other kids to volunteer because it feels great. She loves to basically play Santa Claus. Summer says, "Volunteering puts a smile on my face!"
Jeanne Brunet is one of our newest volunteers. She quickly jumps in to help whenever and wherever she can. Energetic, positive, and friendly, her enthusiasm is contagious! Jeanne makes it a habit to reach out and talk to people every day. For her, volunteering is making a difference in someone's life. It Is as easy as paying a small deed forward, being caring or kind.
Carol Robichaud started volunteering in 1985 when her children were young. She has coached and managed softball and hockey teams and volunteered at a local elementary school. With MWCN, Carol has helped many with her knitting skills, and has personally ironed labels on several hundred masks which are to be donated to the community.
Merlin Halliday, Vice President at MWCN started volunteering at 16 by refereeing outdoor hockey for young boys that were just learning to skate. Merlin continued his service to others through the St. John Ambulance Brigade, The Canadian Ski Patrol, the Maritime Atlantic Club of Chateauguay, school committees, Scouting, as well as basketball and baseball associations. During the Pandemic, he took to social media to make people laugh and feel better. He searches for humorous and human-interest stories and reposts them. His take on volunteering is, "Anytime you help someone else, you help yourself to be a better person."
Joanne Murray spent 24 years moving from place to place in Montreal before settling down in Chateauguay, in 1999. After 42 years of working with machines, work injuries forced her to retire, which brought her to MWCN. A friend, Susanna Langevin Introduced her to our writing and knitting classes with Seniors. It was not long before she became involved in teaching knitting to Grade 4 students, and only a few short years later, she now heads up our knitting group of over 35 knitters as well as the Christmas Dolls Project.
Volunteering is her way of giving back from the heart, and Joanne feels that If you give a few hours of your time to volunteering, you will not only bring joy to someone else but joy to yourself.
Don Rosenbaum; a retired teacher, and MWCN Board member, feels the idea of volunteer work – for causes local and international – has always been important. It has led to activities in school, like the 30-Hour Famine, and a partnership between the NFSB and Free the Children. Outside of school, he has been involved with diverse environmental activities and volunteer driving.
His current passion is finding ways for young people and seniors to connect, support and learn from one another, and have fun together.
Don feels these activities give him a reason to get up in the morning, and a sense of purpose late in life.
Elaine Robitaille who is now 90 years young, started out volunteering at her children's schools when they were little. Through the years, she has volunteered at many different places including at the YMCA, Ski Programs, cooking for Meals on Wheels, running fitness classes for a women's group, and at MWCN with our masks for seniors.
Elaine feels that her most rewarding volunteering was with Literacy programs. Imagine the satisfaction she gained seeing someone understand for the first-time basic information such as reading medication bottles, understanding a bus schedule, and reading their mail. There is joy in sharing knowledge with others that may have been falling through the cracks. Volunteering to Elaine is sharing, and the rewards for her are great; she feels needed and appreciated. At present Elaine is also one of MWCN's callers who check-in on seniors.
" There is incredible value in being of service to others." Elizabeth Berg
Our very own Executive Director, Pauline Wiedow, will be giving a free Zoom presentation on The Value of Volunteering on April 20th from 10:00-11:30 am. You can join in by calling 514-425-0399 or by email to lmarcottemwcn@gmail.com
Cathy Cyr
Project Coordinator
www.mwcn.ca