On June 2nd , the Community Fridge pilot project was launched at two sites in the Vaudreuil-Soulanges region. This program aims to respond to a growing problem in the region; food insecurity.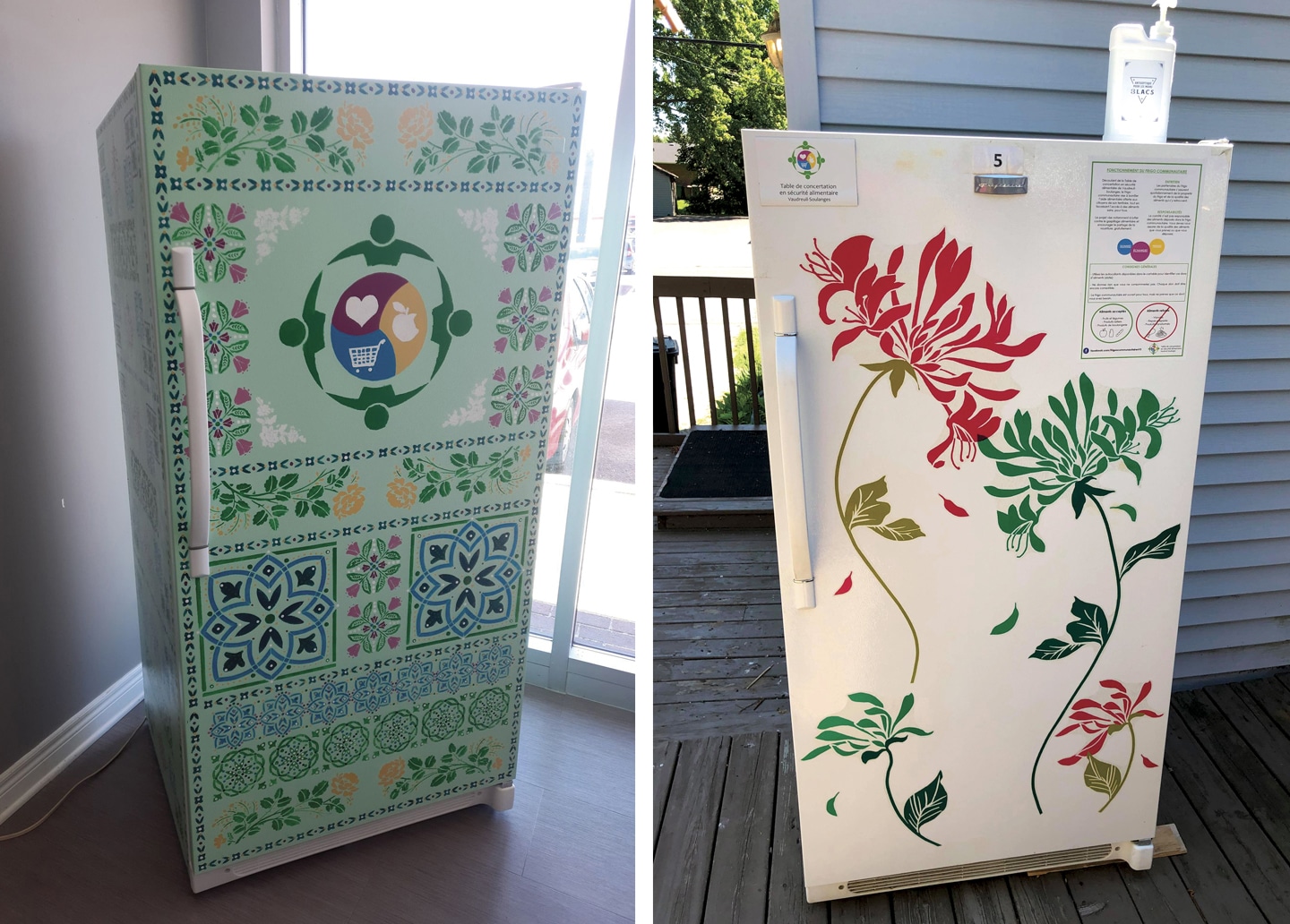 Photos Comité Frigo Communautaire
Andrée-Anne Lavigne, assistant director at La Source d´Entraide, explains that this pilot project was set up by Comité Frigo Communautaire with the participation of the Table de concertation en sécurité alimentaire. The latter is made up of local organizations such as L'Actuel, La Source d'Entraide, Le Café de la Débrouille and Arc-en-Ciel Vaudreuil-Soulanges. Seeing the increase in food needs in the region due to the Covid-19 pandemic, the Table and its partners joined forces to put two community fridges into service. There is one at the Carrefour jeunesse-emploi Vaudreuil-Soulanges, in Vaudreuil-Dorion and another at the Maison de la Famille Vaudreuil-Soulanges, in Saint-Zotique.
The two appliances are identical to an ordinary refrigerator, but operate on the same principle as the community book boxes that we see everywhere in Quebec.
"People can come and help themselves from the refrigerator to meet their basic needs, says Mrs. Lavigne. They can also trade food or simply donate food to give back to others."
She specifies that the refrigerator at Carrefour jeunesse-emploi is located inside the hall and has opening hours. It is available from 9:30 a.m. to 4 p.m. Monday to Thursday. It was also decorated by artist Monica Brinkman for the occasion. As for the refrigerator in Saint-Zotique, it is located on the balcony of the Maison de la Famille and available 24 hours a day.
Project's sustainability
In order for the project to start, Moisson Sud-Ouest will ensure that the two refrigerators are filled once a week with donations. Mrs. Lavigne emphasizes that the organization's contribution is greatly appreciated, but ultimately would like citizens to actively contribute.
"The goal of this project is for the refrigerators to be self-sufficient, says the assistant director of La Source d'Entraide. We want to reach out to people who are in a situation of food insecurity and encourage people to give." She goes on to mention that the foods that are accepted in the refrigerators are fruits, vegetables, dairy products and bakery goods. Meat, prepared or processed meals are refused. Mrs. Lavigne clarifies that donors must provide food that is edible and that they could have eaten.
Comité Frigo Communautaire would like to thank the financial participation of the Department of Public Health, la Source d'Entraide, the café de la Débrouille, the City of Vaudreuil-Dorion, Moisson Sud-Ouest, as well as the provincial deputies Marie-Claude Nichols and Marilyne Picard.