Update: The online petition asking the city of Vaudreuil-Dorion to reverse efforts to have Peder Mortensen's home demolished had garnered 955 signatures as of 10 a.m. on May 20.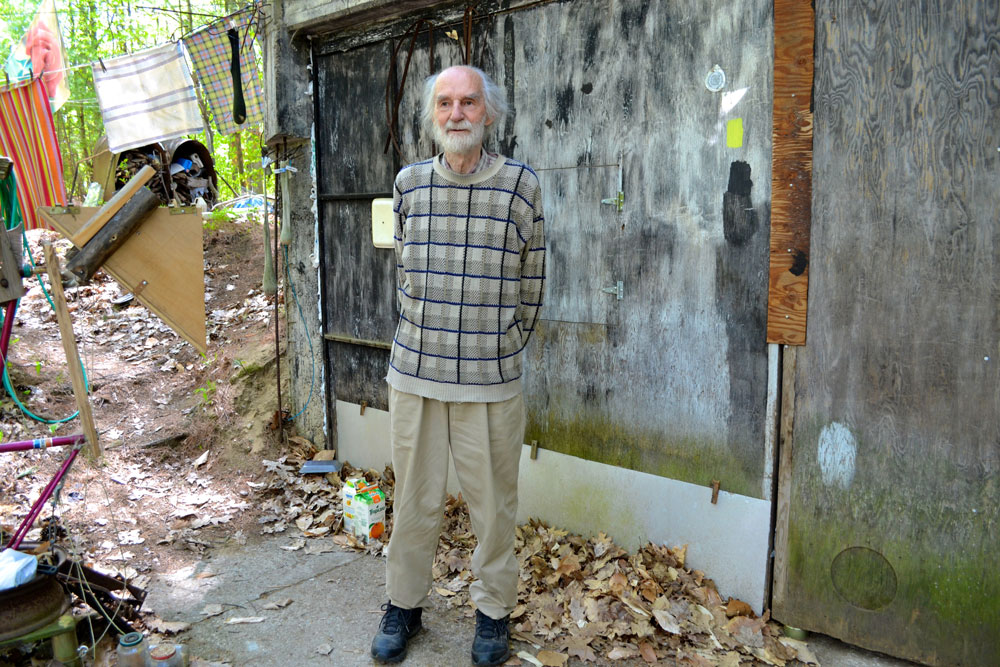 Peder Mortensen, 81, wants the city to stop proceedings aimed at having his Vaudreuil-Dorion home demolished. (Photo: Kristina Edson)
Online crowd funding, petition support mounting
Peder Mortensen was sitting on the ground in the sun Thursday afternoon when a reporter came calling. "I was just enjoying the warmth," he said while putting his shoes and socks on and agreeing to answer more questions about the home he built on his own in 1962.
Mortensen proudly mentioned that he'd been on the news the evening before. The 81-year-old Vaudreuil-Dorion resident who had never married nor fathered children, has become the focus of several media stories as well as many online efforts.
He's also been the subject of a court injunction the city of Vaudreuil is seeking in order to demolish his home.
The retired engineer who came to Canada from Denmark in 1959 recalls mixing the concrete to construct the foundation. The rambling structure is basic at best, but for Mortensen, it is the only home he wants.
"I live in a 10 x 15-foot room. It's where I sleep and eat and live," the soft spoken retiree said.
He spends less than $1,000 a year on electricity and pays his taxes on time.
When told people were trying to raise money to build him a new home, Mortensen immediately nixed the idea.
"No. I already have a home. Maybe they can help me expand it," he said.
His ideas include adding a one-story section onto a portion of the exposed concrete foundation and running beams made from trees from his property.
Mortensen is also adamant that he wants the city to stop all legal proceedings toward the demolition of his house.
"That's the first thing that must be done," he said.
According to Vaudreuil-Dorion Mayor Guy Pilon, the city is in a tough place. "We're damned if we do and damned if we don't," he said.
Pilon and other city officials met with Mortensen on Wednesday. "It's not really safe the way he's living," the mayor said.
Officials took some 25 photos of the inside of the home.
"He heats the house by putting a hotplate inside a metal tire rim. His washroom is a hole in the ground. He carries that outside and disposes of it on his property," the mayor explained.
"It's not for esthetic reasons that we don't want him there… if there was a fire and we knew how he was living, we'd be blamed for not taking action," Pilon said, adding he wants to help Mortensen as much as possible.
"My mother wanted to stay in her home, too, so I understand."
The city has arranged a meeting with members from different social services groups to see what solutions they can reach in order to let the elderly man stay on his property.
Asked if there was any way the resident could bring his home up to code, the mayor said: "no."
A second meeting with Mortensen is planned for next week.
Online support
Meanwhile, Mortensen's story has gone viral on several social media and crowd funding pages.
Gabriel Monsigner started an online petition demanding the city "back off" from "this cruel procedure" to evict Mortensen.
Many of the 136 supporters who had signed the petition by Thursday didn't mince words.
"Butt out of this man's life! Live and let live as he has always done," Lisa F. said, while Neil G. wrote: "Let this man continue his life with the joy and spirit he has until it is his choice to move."
The cause has also garnered support from former Vaudreuil-Soulanges NDP MP Jamie Nicholls, who has started a Go Fund Me effort in order to build Mortensen a $150,000 sustainable LEED modular home.
Calling Mortensen "a symbol for sustainability," Nicholls referenced a distinctive, low-seated bicycle enclosed in an aerodynamic bright yellow casing that Mortensen had designed and built. He rode it throughout the region as his primary mode of transportation for decades. Mortensen even has a US patent for the bicycle (US 4303256 A.)
Nicholls's plan calls for building the sustainable home on the property and encouraging Mortensen to leave it and his land to a foundation upon his passing. The effort had amassed more than $300 in online donation in 16 hours.