Robert Grimaudo wants people to buy local when in Saint Lazare, and that includes supporting a farmers'market that runs every Tuesday afternoon and evening.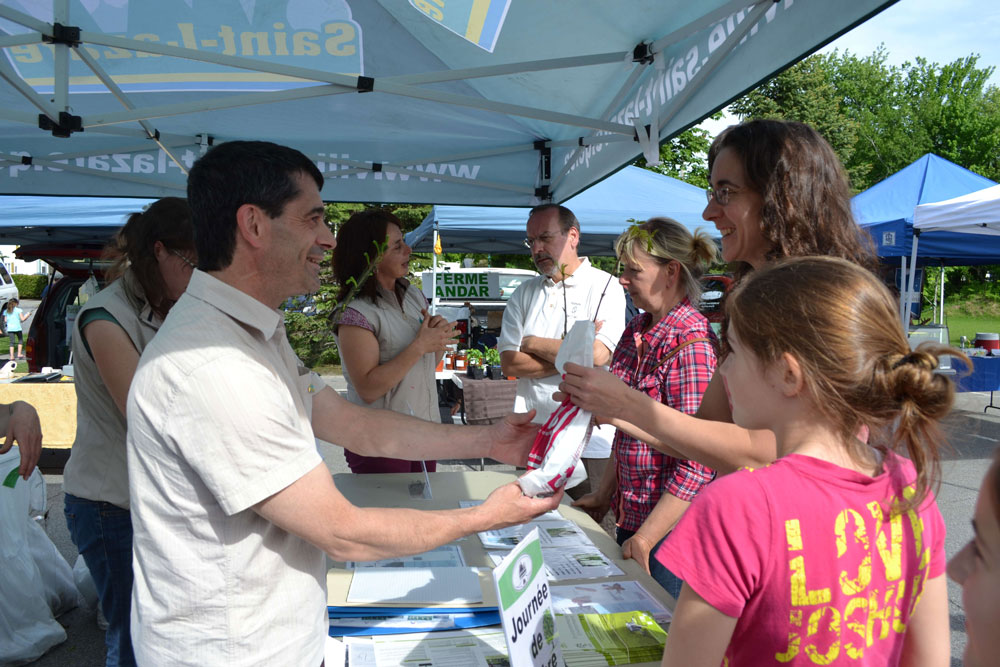 Saint Lazare Mayor Robert Grimaudo helped hand out free trees during the Town's annual Arbour Day giveaway.
(Photo: Kristina Edson)
One of many markets featuring fresh good
And if being able to buy locally grown or produced goods such as Quebec garlic, basil, asparagus, and more is not enough to tempt shoppers, perhaps a plethora of gourmet chocolates, cheeses, pies, brownies, honey, meats, maple syrup and more, will.
Walking around the market that kicked off its new season Tuesday, it was easy to see why consuming handmade or homemade foods is more appealing than digging into processed or prepackaged goods.
The foods simply look, taste and are fresher since they are grown or produced in the region.
The Saint Lazare market will be open every Tuesday from now until Oct. 1 (3:30 p.m. to 8:30 p.m. until the end of August; 3:30 p.m. to 7:30 p.m. until Oct. 1.) Market organizer Thierry Juvien, who runs the Aux Gourmandises de Soulanges bakery stall at the market said the number of vendors selling goods each week fluctuates but averages out to about 18 suppliers.
Tuesday's market launch included such goods as a host of gourmet tea blends, fresh local honey and eggs, plenty of cheeses including locally produced goat cheese, homemade Indian cuisine, gourmet chocolates, locally raised meat, and much more.
A face painting artist was also on hand for the youngest visitors.
And while Saint Lazare provides a location for the weekly market, held in the town hall parking lot, the initiative is nevertheless the responsibility of market organizers and merchants.
"We just provide a location, they do all the rest," Grimaudo explained, adding he sees the weekly event as another chance to buy local.
"I shop here every week because the food is great, the garlic does not come from China and I'm supporting our local food producers. It's so important to support all of our local businesses like the hardware store or the pharmacies, anything local needs support," he opined.
Saint Lazare also took the opportunity to host its annual Arbor Day tree giveaway Tuesday. Dozens of residents waited on line to claim their free trees.
The weekly farmers' market will run, rain or shine, each Tuesday afternoon at the Saint Lazare town hall parking lot located at 1960 Sainte-Angélique. For more information or to learn about eligibility requirements for vendors go to www.marchepublicsaint-lazare.ca.