Enthusiasts of road cycling had a rendezvous in Contrecoeur on August 29th and 30th as part of the "Championnat québécois espoirs sur route, para et contre-la-montre par équipe élites 2020". In the U-15 category, it is the Vaudreuil-Dorion resident, Jonathan Hinse, who took home the honors.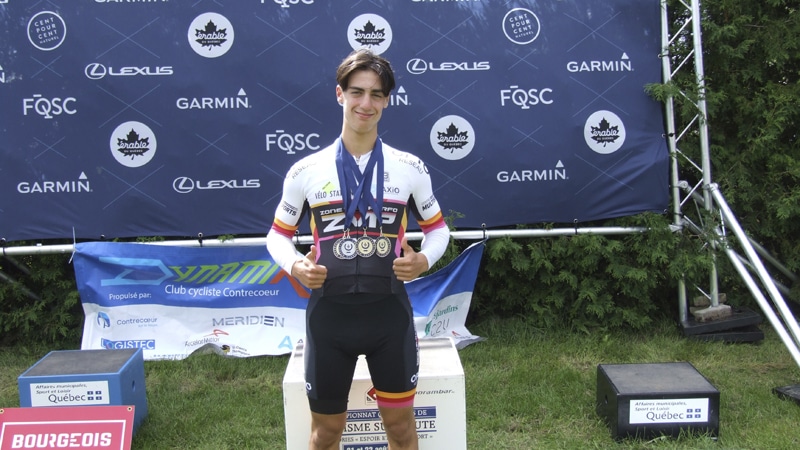 Jonathan Hinse won the Championnat québécois espoirs sur route on Sunday, August 30th . (Photo library)
Jonathan Hinse dominated his competitors by finishing 1st in the individual time trial, 1st in the criterium and 2nd in the road race. He thus won the omnium and the title of provincial champion 2020 in the U-15 category.
For the 14-year-old student in the Sport-Études program at École secondaire Chêne-Bleu, the championship obtained is the fruit of all the effort he put into training. Moreover, he does not hesitate to get on his bike 5 times a week to train "I train about 15 to 20 hours a week, confirms Jonathan Hinse. I perform very well in the sprints. This is really my strength. However, I would like to improve my performance in long distance. I am training hard for this. It takes a lot of cardiovascular work."
Jonathan Hinse is a real sportsman. It would be practically possible to say that he learned to run before he walked. "He played several sports when he was
young", says his father, Sylvain Hinse. At one time he was doing triathlons. It was then that he fell in love with cycling. Soon after, he enrolled in cycling.
Friendships
Although cycling is an individual sport in the U-15 category, Jonathan Hinse has befriended several of his colleagues. Especially those from Club ZVP Opto-Réseau, where he trains.
"We are all in sport-study at the same school, says Jonathan. We have become friends. We all train together. There are friendships that have developed."
Don't think that the arrival of winter is a sign that cycling training is over. At that point, it's happening indoors. "There is all the necessary equipment to train at the Centre Multisports de Vaudreuil-Dorion."
The future could be bright for Jonathan Hinse. However, in cycling even the best prospects can't skip levels. "In my category, there is no Canadian championship, he said. There is no higher than the Quebec championship. But, when I'm 17, I could possibly race in the junior category. At that point there is a Canadian championship and other championships", says Jonathan.