The municipalities of Rigaud, Pointe-Fortune and Très-Saint-Rédempteur presented their new risk management tool for spring flooding. The e-nundation solution will be tested in 2021 on the Ottawa River downstream from the Carillon generating station.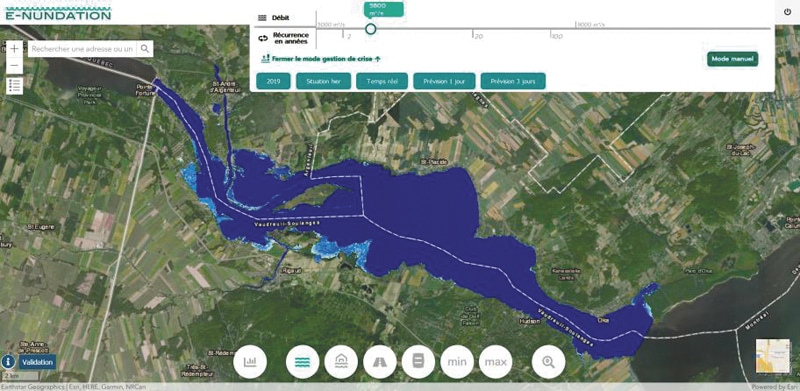 The mayor of Rigaud Hans Gruenwald Jr. explains that the decision support tool provides emergency managers with centralized information for the operational management of floods. The tool makes it possible to better prevent risks and optimize their interventions. The mayor says that e-nundation is also very useful for risk communication and awareness raising among citizens.
The elected officials present are also interested in making the data public via an app, if the pilot project works.
The e-nundation web solution is offered as part of a pilot project thanks to a collaboration between the firms Geosapiens and Hydro Météo.
According to the mayor of Rigaud, the pilot project allows for forecasting and real-time mapping of floods as well as a precise assessment of their impacts on the population, buildings and critical infrastructures. This solution is the result of several years of research and development at the Eau Terre Environnement Research Center – INRS.
Mr. Gruenwald Jr. says that such a computer tool is very useful in ensuring the safety of citizens. He goes on to point out that the project reduces the economic, environmental and social costs associated with flooding.
"It can only help us following the floods of 2017 and 2019", he explains.
For his part, the mayor of Pointe-Fortune, François Bélanger, adds that his municipality is proud to be associated with this pilot project. He believes that this will help concretely and more effectively the victims of all municipalities, all of whom are affected by the floods.
"This decision support tool for emergency managers can be used for any type of disaster, which makes e-nundation an essential civil protection device", concludes Julie Lemieux, mayor of Très-Saint-Rédempteur.