Liberal MP Peter Schiefke was reappointed for a third term in the riding of Vaudreuil-Soulanges during the federal election held on Monday.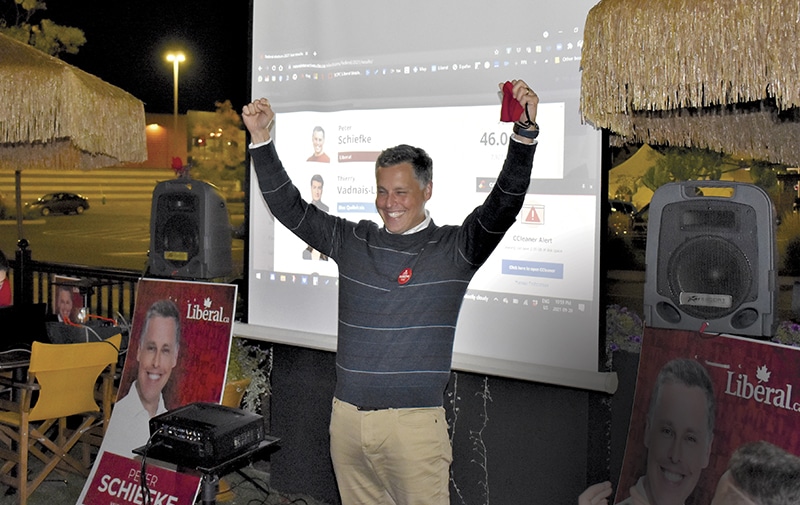 As anticipated, Mr. Schiefke was re-elected without difficulty with a majority comparable to that he had obtained in 2019. At the end of the evening, with 236 of the 264 polling stations counted, the winner had collected 45.7% of the votes (25,636) compared to 22.5% (12,581) for Bloc member Thierry Vadnais Lapierre. Two years ago, Mr. Schiefke had received a total of 31,971 votes, or 47.3% of the votes cast.
On Monday, Karen Cox of the Conservative Party took 3rd place with 16.4% of the votes, followed by Niklas Blake of the New Democratic Party (10.4%), Cameron Stiff of the Green Party (2.5%) and Ginette Destrempes of the Free Party Canada (2.1%).
The first cries of joy were heard around 10:25 pm among Liberal supporters gathered on the terrace of the Carlos and Pepe restaurant in Vaudreuil-Dorion when CBC News announced the formation of a Liberal government. Twenty minutes later, Peter Schiefke rejoiced when he saw on screen that he had more than double the number of votes accumulated by his closest opponent, Bloc Québécois member Thierry Vadnais Lapierre.
Shortly after 11 p.m., CBC announced the Liberal candidate as the winner, and a party atmosphere swept over the Liberal troops, made up mostly of young supporters. "A huge thank you from the bottom of my heart to my family members, my mother, my brother and my wife, for their support and to the many volunteers in my organization for their remarkable work. Without the drive of the volunteers, nothing would be possible", he praised.
Continuing his speech in English, Peter Schiefke added that his first election was a moment of pride, his second a dream come true and that he was without words to describe this 3rd victory. "This sign of confidence encourages me to make Vaudreuil-Soulanges a stronger riding and to push for an even better Canada", said the MP elected for the third time in 6 years.
In the next term, the MP intends to work with county mayors to complete pending infrastructure projects. Regarding the health situation in the country, Mr. Schiefke promotes the sharing of science, hoping that the population will agree on the effectiveness of the vaccination to curb the COVID-19 virus.