Last November, Marc-André Jodoin asked his daughter what she would do if she had money. The 8-year-old girl replied that she would buy a house, food, and then help out the children that were not as fortunate as her. Her father then suggested that she do a fundraiser to fulfill her desire to help children.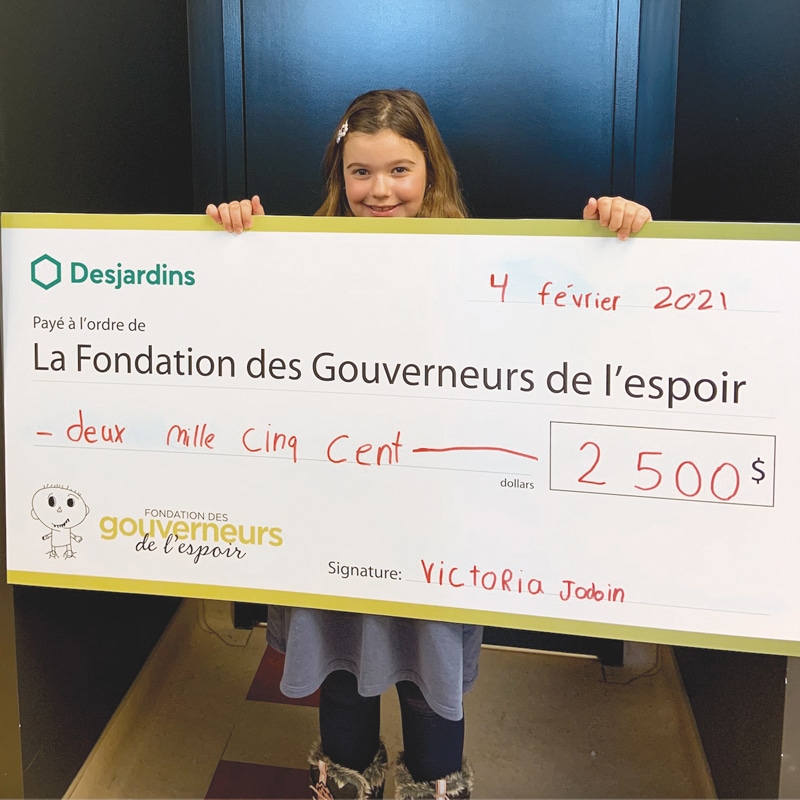 (Photo Marc-André Jodoin)
Victoria Jodoin adheres to her father's suggestion without the slightest hesitation. So, she asks her family not to give her Christmas presents. She prefers that they contribute to her fundraising. The girl's mother, Geneviève Gagné points out that she still made a Christmas stocking fearing that on Christmas Eve, Victoria would regret her decision. The latter, realizing that Christmas 2020 would be different for her, expressed no regret in offering the monetary equivalent of her gifts for a good cause to the Fondation des Gouverneurs de l'espoir. "I'm proud of her because she's only 8 years old and she already thinks that way. I am sure that later on, she will continue to think of others", emphasizes Mrs. Gagné.
Since birth, Victoria has been pampered and loved. Both of her parents are known in the region to be prolific entrepreneurs. Many know her mother, who has long been part of the Valleyfield landscape with her family by operating Remorquage Gagné et Frères. Her father was also very active in the mechanical field with Jodoin et Fils in addition to having several entrepreneurial projects in parallel, including the acquisition of Île Raymond. Realizing how lucky she was not to have experienced the side effects of financial insecurity, Victoria wanted to help improve the situation for other children who were not living the same reality as her.
After asking those around her, the little girl still had not reached the goal she had set for herself. Her parents therefore appealed to the generosity of people on social media who answered the call. So, on February 4th , Victoria presented a check for $ 2,500 to the Fondation des Gouverneurs de l'espoir. "I didn't expect her to achieve her goal since it had stagnated but people really contributed until the end", concludes Geneviève Gagné.