Two artists are currently at work to create a splendid mural for the benefit of users of the Parc regional de Beauharnois-Salaberry. It will be possible to admire the work of the latter by walking under the southern end of the Saint-Louis Bridge at the Halte des Villages in Saint-Louis-de-Gonzague.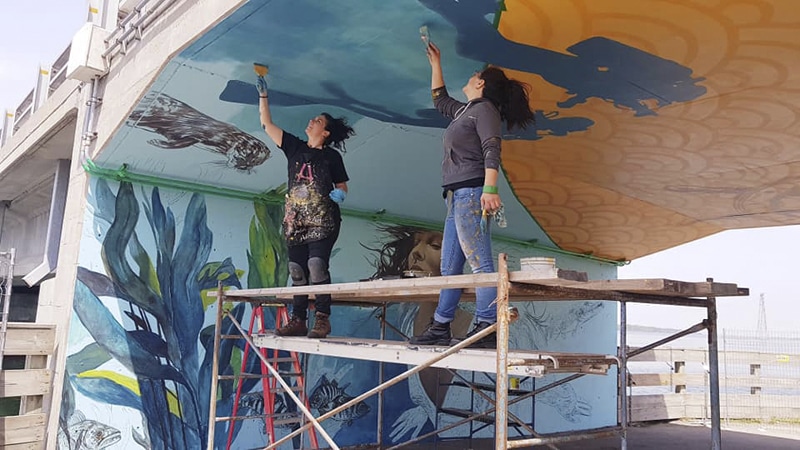 Photo Salaberry-Beauharnois RCM
In order to allow the artists to safely complete their work, this section of the trail will reopen as of May 25th . However, obstacles are to be expected. A call for vigilance and caution, as well as to respect the signs when approaching the site in this sector, is therefore launched to users of the park.
The artists
For the design of this grand mural, to say the least, the RCM called on two artists who grew up in the region, in this case Mrs. Sophie Wilkins and Mrs. Anik Favreau.
Sophie Wilkins' murals are renowned for being spectacular. Let us consider, in particular, the mural at the École secondaire Soulanges, painted in 2017, the one titled Parc d'exposition de 1910 à 1965 or the one painted in homage to Dr. Aimé Leduc. The artist, passionate about drawing since childhood, has been dedicated to her art since 2003.
For her part, Anik Favreau has been handling the design and realization of multiple projects, the production of objects in small series and painted murals for over 12 years. Her work can be admired across the province, in commercial settings or in restaurants.
The mural
Soon, it will be possible to admire the mural created by the two exceptional artists. The size, the precise brushstrokes, the creativity on which it is based, the palette of colors used, as well as the presence of elements representative and characteristic of our region which are illustrated, will be admired by those who will stop there to contemplate this work.
"Having grown up on the shores of lac Saint-François, I wanted to illustrate the fullness and serenity that I feel when I swim in this lake and express, at the same time, the themes of identity of our region, such as the channels, navigation, sailing, fishing, diving, cycling, rurality, wildlife and the strength of a united community dealing with the daily grind. I also had the pleasure of working on this concept with my fellow artist from Strasbourg, Anik Favreau, whom I would like to thank very much. We hope that people will enjoy the work and that it may prove to be a signature attraction of the Regional Park over time", says artist Sophie Wilkins.